"Palm Springs Film Festival in America rocks! The photographers are amazing there, as well as the producers and directors! The audience is open and watched our movie « Chagall-Malevich » very well with heart and soul and said I did an amazing job in the film as a main actress, which was sweet to hear. I got to meet amazing people there and was lucky enough to be in the spotlight!
Here I stand in front of the paparazzi right before the closing festival film « Boychoir » screening at a Palm Springs High School!

Kristii Schneider at the Closing Ceremony looked beautiful as always and was surrounded by the paparazzi right at the entrance of the High School where the Ceremony took place!
« Boychoir » was a very touching film that I could relate to myself about the life of a young child who sang in a boychoir and music was his life, however he had many difficulties in real life he had to go through, which made his tough character come out in order to survive.
The actors Dustin Hoffman and Garrett Wareing from the film « Boychoir » I met in person and Garrett appeared to be younger in life than in the film, but he was such a nice boy, a total sweetheart to talk to and we even became friends at the Closing Ceremony of the Palm Springs Film Festival! The film director François Girard is really talented!
Check out my photos on Palm Sprigs film festival official site."
– Kristii Schneider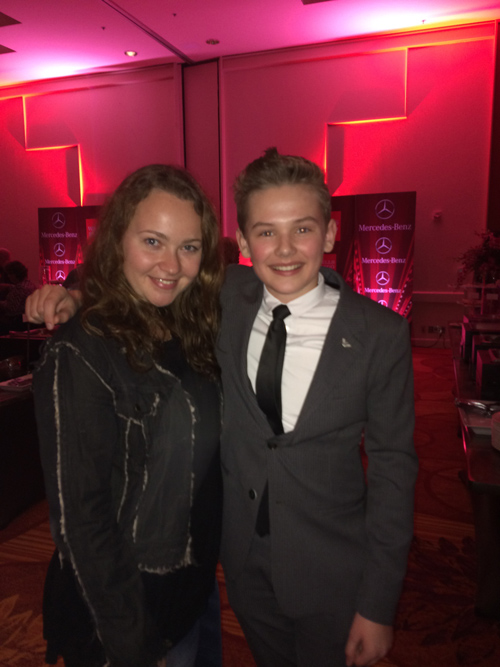 Kristii Schneider met the young actor Garrett Wareing of the closing film "Boychoir" at the Closing Ceremony of the 26th Palm Springs International Film Festival.