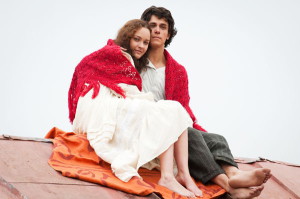 "Chagall-Malevich" in WFF description
A film about a brief but significant episode in the life of world-famous painter Marc Chagall. It focuses on his conflict with another Russian avant-garde painter (of Polish descent), Kazimir Malevich. The years 1917-18 were a time when Chagall worked for the Russian revolution. He was appointed commissar for the arts in Vitebsk where he established the Academy of Fine Arts. Contrary to Malevich, he was more highly regarded by the new Bolshevik authorities and benefited more from the new system. Malevich was more radical about his work, even treating his students like soldiers battling for a better, abstract representation of the world, with maximum simplicity of form. Legendary Russian director, screenwriter and producer Alexander Mitta is back after a 10-year break with this historical drama.
(Special Screenigns)
Screenings:
October 13th 6.30 pm Multikino 1
October 14th 4.30 pm Multikino 3
WFF
Warsaw Film Festival is a major film festival held every October in Warsaw, Poland. The festival has been held every year since 1985. The festival is host to the International Federation of Film Critics awards for enterprising filmmaking in Central and Eastern Europe. The 30th edition is scheduled to take place between 10 October to 19 October 2014.
"The Warsaw Film Festival has a history going back twenty-six years. We have travelled a long way – from a modest though ambitious student event to a genuine film festival with a programme of premieres.
The world is rushing forward faster and faster. That makes us try even harder to make sure that our audiences get to know the latest and most interesting trends in world cinema as soon as possible, often in the form of national and regional presentations. In this way, WFF audiences – usually as the first people in Poland – could discover independent cinema."
Stefan Laudyn
Director of the Warsaw Film Festival