For the first time in my life with my beautiful friend and assistant we went to the Cannes Film Festival! I was in Cannes before – growing up I went there almost every summer. But my friend was there for the first time. The weather was wonderful. And, of course, a lot of impressions! A lot of people. I must say for the future that you need to decide where to stay in a good time, several months before the event all the hotels were full of guests of the festival.
Where weren't we and what we haven't seen! Being at the Palais des Festivals it was possible to feel excitement and to see streams of people running to see and to promote films. This year we promoted our movie "Chagall-Malevich" of the iconic director Aleksandr Mitta. The market was huge. There were marketing experts and agents from all over the world: from USA, Britain, Germany, France, Japan, Italia, Spain, Latvia, China, etc.
We were promoting our film of Cinemotion Agency under guidance of a genius Raisa Fomina. As a result our film was bought by many distributors from different countries. I, as an actress with fluency in five languages (english, german, french, russian and italien) and having honours degree of MGIMO, Faculty of Journalism and Public Relations, helped to search people potentially interested in our film "Chagall-Malevich" on the market as well as among the guests.
I got a huge experience communicating with proffesionals from film industry. I was lucky to met many producers from Germany, USA, Britain, Korea and Russia. At the very first day I met berliner producer at the famous Carlton Hotel where princess of Monaco Grace Kelly was living. He said that once he got new projects he'll call me.
In a very good mood, walking at the lobby, I ran into Andrea Bocelli. His fans were constantly photographing with him. I didn't come over, he looked tired from endless stream of fans. At that very moment I suddenly saw Will i. Am. My friend and I went to meet him, but when I asked how was his work, he said that he liked to make clothes, and I realized that I've been mistaken. I love Will i. Am so much that in that couturier I saw my favourite producer and song-writer.
Overall, during all the festival we were constantly working. I lead the process as I could, I ran forward all the time thinking that we had missed something or someone and that we need to meet more people. I was tiring everybody, but not in vain!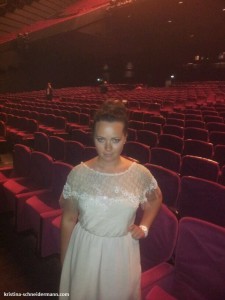 At the Palais des Festivals when we were looking for S6 Pavillion we walked by american mount. Never found a russian pavillion and walking by them again, I realized that it was a sign and decided to come over to meet them. They happened to be producers from LA! We exchanged contacts.
At the Grand Hyatt Cannes Hotel Martinez, where we went everyday in dinner time, we met a lot of famous people, including worldwide renowned film director Martin Scorsese. There we were approached by Grisogono himself and were invited to his party planned that very day.
Later we met him again at the Chopard's party and at the amfAR Cinema Against AIDS Gala. All the funds raised from sold-out tickets and auction, that was held at the event, go to different initiatives, including direct treatment, care, and support services for people living with HIV/AIDS. I was glad to be attendee at this event and took part in helping those who are in need.
There I happened to meet many hollywood celebrities: Mila Jovovich, John Travolta, Paris Hilton, Adrien Brody, Leonardo DiCaprio, Sharon Stone and many others. Sharon Stone was a hostess of the event and facilitated an auction, where Gold Mammoth, different paintings and many othe things were sold for millions. Lana Del Rey and Robin Thicke were performing. I'm thankful for this opportunity to attend that great event! Milla Jovovich herself came to me and said that she wanted to take a picture with such beautiful girl.
I was lucky to talk with John Travolta about life and art, he happened to be a great open-hearted person.
I was at Leo DiCaprio's villa and was amazed by welcome and warm that Leo gave to every his guest. We were there till dawn and there we also met Tarantino. We exchanched contacts and said he'd be happy to see me in LA, to work with me. Nowhere else you can meet people like that.
This trip opened many possibilities before me, gave me a chance to meet wonderful, interesting, unique people, that write me their ideas and offer me a job. This means many like me as an actress and this is the most important thing for me!
Love you all, sincerely yours
Kristii Schneider